Bas Muafakat Johor is a free bus services
Bas Muafakat Johor is a free bus service funded by the Johor State Government and Local Authorities as one of the initiatives to reduce people's burden as well as provide convenient and effective public transport network throughout the state
The BMJ service has been introduced and implemented since April 2016 in the Iskandar Malaysia area involving 15 routes within the Majlis Bandaraya Johor Bahru (MBJB), Majlis Bandaraya Iskandar Puteri (MBIP), Majlis Perbandaran Pasir Gudang (MPPG) and the Majlis Perbandaran Kulai (MPKu). BMJ is equipped with CCTV system, GPS, Passenger data system and free internet facility (WIFI). To use this BMJ service, users will need to register and obtain the Muafakat Johor Card.
In 2017, the BMJ Service was expanded to all districts in the state of Johor, namely Pontian, Kluang, Batu Pahat, Simpang Renggam, Yong Peng, Muar, Tangkak, Segamat, Mersing and Kota Tinggi while there were also additional routes in the area of ​​Iskandar Malaysia ( Johor Bahru and Kulai )
Company
Perbadanan Pengangkutan Awam Johor
Location
No 12 & 14, Jalan Iskandar Putri 1/2,
Taman Nusantara Prima, 81550 Gelang Patah, Johor
Opening Hours
Sunday – Thursday: 8.30 AM – 5.30 PM
Friday – Saturday: CLOSED
Bas Muafakat Johor
bus will be equipped with CCTV System, GPS, Passenger Data System and Free Internet Facility (WIFI)
Bas Muafakat Johor 1.31 Minutes
What makes Bas Muafakat Johor different?
We do things a little differently, here's a quick overview of just a few of Bas Muafakat Johor unique offering.
Free Bus Services
The Bus Service is provided free of charge to all citizens. Kad muafakat Johor is required to enjoy exclusive ride with Bas Muafakat Johor
CCTV
Our CCTV is used to capture and monitor images of events that take place in specific locations in real time for security purpose.
Free WIFI Internet
Bas Muafakat Johor comes with integration WIFI Internet for all bus fleet of Bas Muafakat Johor – ideal for browsing internet
Kad Muafakat Johor
Kad Muafakat Johor is required to ride Bas Muafakat Johor. 1 year validity is apply every time renewal this card.
Passenger Data System
Bas Muafakat Johor is equipped with bus card reader which is integrated with Kad Muafakat Johor card in one passenger data system.
Coverage Bus
BMJ Service was expanded to all districts in the state of Johor.
New
Get Kad Muafakat Johor now at our authorised counters.
Join us at our road shows or request us to come to your place to enjoy special registration & card collection of Kad Muafakat Johor. See you at our upcoming events!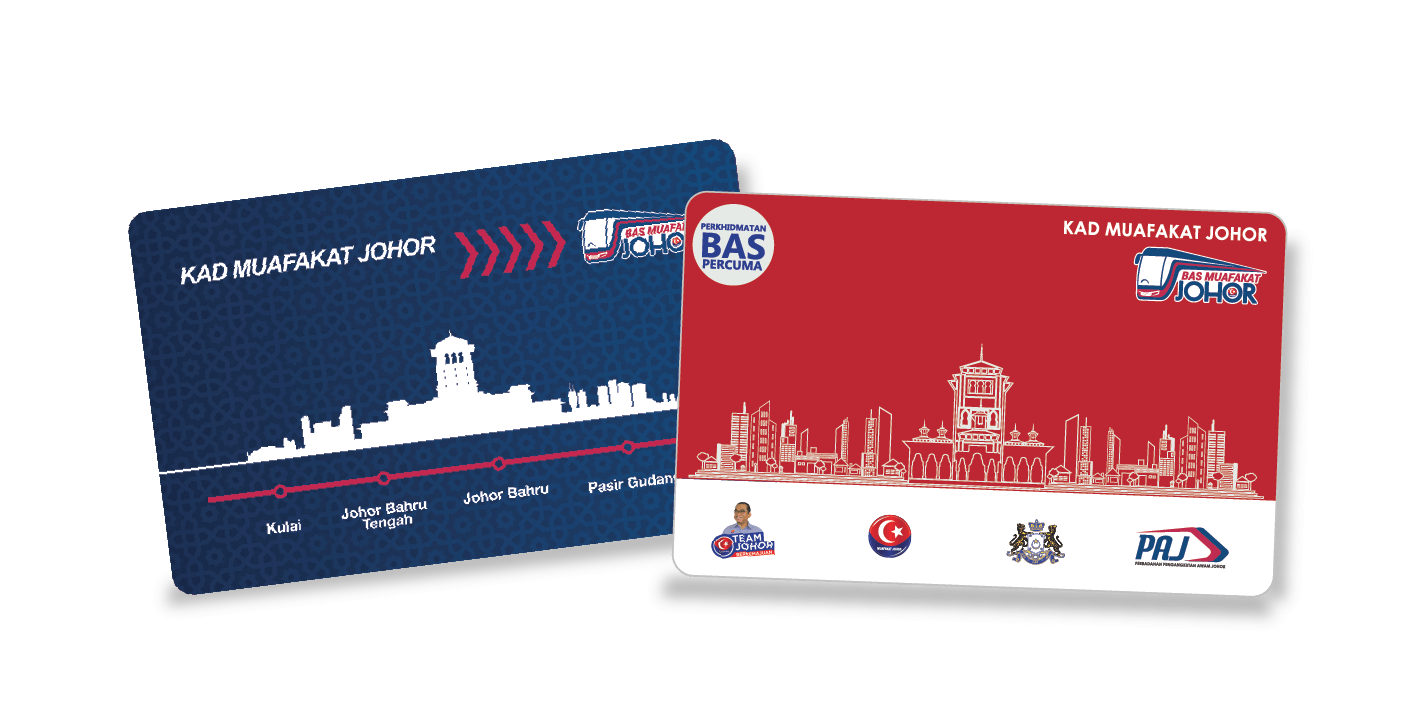 Find detailed bus routes, and schedules of Bas Muafakat Johor